Electrical Inspection Testing Services
Electricity at Work Regulations
The Electricity at Work Regulations (1989) state that precautions must be taken against the risk of death or personal injury from electricity during work activities. All electrical systems should be maintained and periodically tested to prevent danger such as fire and electric shock.
Maintenance Records
Records of maintenance, including results of periodic inspection and testing should be kept through the working live of an electrical installation.
These records enable the condition of an electrical installation to be monitored to ensure that it is safe and fully compliant with the current edition of BS 7671 (The IEE Wiring Regulations) which establishes the required standards for electrical installations.
The law states that without these records an employer cannot be sure that the requirements have been met. These records provide proof of compliance and may be requested in the case of an accident or fire at your premises.
Types of Electrical Inspection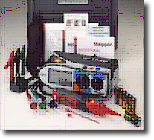 Electrical testing of your electrical installation can be called many things, for example an electrical inspection, electrical testing, fixed wire testing, periodic inspection and test, landlords certificate, electrical testing & inspection NICEIC report, five yearly electrical report, electrical wiring report.
At I&B Electrical, our electrical engineers are fully trained to carry out electrical testing at your premises. We arrange to carry out your electrical testing at times to suit you and cause minimal disruption. If required we can carry out your electrical testing outside of normal working hours.
Frequency of Testing
The frequency of electrical testing can vary from one year to 10 years depending on the type of premises, for example a domestic property requires electrical testing every 10 years or at change of tenancy, while industrial premises require electrical testing at three yearly intervals.
Portable Appliance Testing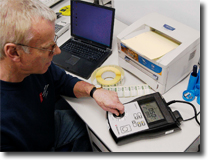 It is an employer's Legal duty to ensure all electrical appliances in the workplace is checked for electrical safety. Portable appliance testing or PAT testing as it is more commonly known is a service I&B Electrical offer to help our customers meet their obligations under the Electricity at Work Act (1989).
PAT testing is carried out on a periodic basis to all portable and fixed appliances in the workplace i.e. any thing that has to be plugged into the mains.
All electrical appliances are labelled with a test and retest date and a certificate of compliance is provided on completion of your PAT testing.
A separate report is provided for any items that fail the testing and a report is provided detailing all appliances tested. This report is supplied in paper or electronic format.
Our PAT testing division has been established for over 10 years and our entire PAT testing engineers is fully qualified to carry out your electrical testing to the highest standards.